A subtle yet cataclysmic shift in my personal development happened when I learned a valuable word.
No.
A lot of who I am now is attributed to the ripple effect from using the word 'no ' more often. Small, but powerful, the word 'No' carries a lot of weight to it — in terms of my own life trajectory, things began to change for the better when I started to say 'no' more.
To myself and my own impulses.
To work that did not excite me.
To obligations that came at the expense of my own needs.
"The art of leadership is saying no, not saying yes.
It is very easy to say yes."

Tony Blair
To begin using 'no' as a tool, we first must understand the following:
Why human nature makes it so hard to say 'no'
What saying 'no' does for you
How to say 'no' better
Read further for more information.
---
Easier said than done.
Saying 'no' is extremely hard. I 100% feel you. The 'no' muscle is not something we as humans have naturally built up. We evolved from a land of scarcity — our chimp brain is programmed to want to say 'yes' more often than no.
On the savannah, saying 'yes' to every opportunity was the best tactic for survival — it helped our own agenda to consume as many resources as possible. Survival of the fittest meant that whoever had the most resources had the greatest changes to survive.
Evolution, as it seems, encourages us to be greedy.
But what was accurate then is no longer accurate now.
We used to live in a world in which we didn't need an inner no, because no was all around us. Now we live in a world designed to give us what we think we want. Now yes is all around us.

William Leith, The Guardian
Fast forward to present day, we no longer live in a world of scarcity. Resources are abundant. Saying 'yes' is now no longer what can amplify survival.
The answer has changed to saying 'no.'
In addition, saying 'Yes' is automatic, it's inherent in our desire to please people. We live in a society where saying yes is always encouraged and appreciated. This is also linked to our primal brain, which associates 'agreeableness' with herd survival.
The fear of conflict is instinctual, it drives us to avoid rejection both in the form of giving or receiving it. In addition, for requests from people close to us, we say 'yes' because we care. We want this person to be happy.
We have an instinctive need for connection to other people—it's essential to our survival. We worry that saying no will break these bonds.

Vanessa Bohns, Ph.D., a professor of organizational behavior at Cornell University
Life will get a lot easier to manage when you realize that in this age of plenty, saying 'no' will actually help you get more of what you're looking for.
Why saying 'No' is empowering
1. Represents a choice.
As mentioned earlier, it's inherently programmed into our primal brains to say 'yes' more often. That was the best way for us to acquire as many resources as possible. Yes is easy, yes is automatic.
But how often have you felt that pang of regret for overcommitting or saying yes to something that, in hindsight, you wish you had said no instead?
The more difficult response is really no. It's harder because 'no' represents a clear choice, and not an impulse decision. It acknowledges that you know what you want. And what you don't.
You are your choices. They define the life you want to live. And it's only by recognizing and setting boundaries that you can make better choices on the life you want to live.
Most importantly, it will give your "yes-es" more power. By knowing what to say 'no' to, you are able to prioritize what is in your yes column. As Derek Sivers wisely says:
If you're not saying "HELL YEAH!" about something, say "no".

When deciding whether to do something, if you feel anything less than "Wow! That would be amazing! Absolutely! Hell yeah!" — then say "no."

When you say no to most things, you leave room in your life to really throw yourself completely into that rare thing that makes you say "HELL YEAH!"

Every event you get invited to. Every request to start a new project. If you're not saying "HELL YEAH!" about it, say "no."

We're all busy. We've all taken on too much. Saying yes to less is the way out.

Derek Sivers
Key Takeaway: Know what you want. Choose it. Say no to the rest.
2. Demonstrates discipline, strength, and courage.
In a world that is constantly trying to entice you into saying 'yes' — to that cake, that night out, that extra project, it takes mental strength and discipline to avoid the easy 'yes' and have the bravery to fight intuitive responses and say 'no'.
Discipline is choosing what you want most most over what you want now. In short, it's an exercise in long term thinking. It shows you have the backbone to prioritize your time and needs — that you are committed to a goal that's important to you.
Enforcing discipline with yourself means you've been able to successfully ask (and answer the question): does doing this help me towards my long term purpose?
As a choice, saying 'no' is also a way to improve your self-worth. It reinforces the identity you've created for yourself, that 'you are someone that resists the easy indulgences.' Self-discipline is having the strength to say no. By saying 'no' to our own self-destructive impulses, we generate self-discipline — which over time translates into self-worth.
Daring to set boundaries is about having the courage to love ourselves, even when we risk disappointing others.

Dr. Brené Brown, Dare to Lead
Key takeaway: Build your discipline and courage. Have the strength to say no.
3. Offers protection.
It's human nature to focus on the self. And that's what of happens when people make requests: they are thinking of their needs and how you might be able to assist; most people are not thinking from your perspective or focused on your needs.
No one is at fault in this situation, but this is exactly why you must be fully aware of your needs. You must be your largest advocate, your most enthusiastic agent that seeks out the best auditions for you, and ignores the rest.
'No' insulates yourself from other people's needs. It protects what is precious to you and allows you to consider your needs first, before considering others.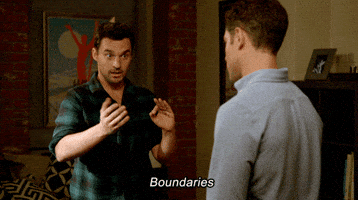 That's the 'nice' way of saying selfish, ICYMI.
Your no protects your personal power in your relationships. It enables you to be more honest with other people, yourself, and what you want. Your no allows you to say yes to things that are important to you.

Tiny Buddha
Key takeaway: Protect your time and mental energy . Say no.
How to say 'No' in a better way: Six strategies
It's not just about the 'no' itself, it's also how you say it. Here are a couple of tactics for how to say 'no' better:
Give yourself space to think. If you feel yourself having the knee-jerk reaction to saying 'yes', that's a great sign that you need space to think it through.
Manage tone and delivery. Acknowledge and respect the request before providing a response.
Leaving feelings out of it. Separate the decision from the relationship to prevent yourself from feeling guilt, or further compromising the relationship.
It's not 'I can't' — It's 'I don't'. Retain your feeling of control by emphasizing that this is a decision you've made. This study from the Journal of Consumer Research shows how saying 'I don't' empowers us and reasserts goals.
Practice, practice, practice. Start building up a script or collection of ways to say no that you can repurpose for future instances. This will save you in instances where you need to respond. with a quick 'no'.
Resist the urge to explain. Keep things simple — you don't necessarily always need to provide a reason. It can open the doorway to rebuttals or counter proposals.
TL'DR:
Saying no is never easy. But when you do, it becomes empowering because it:

Represents a choice.
Demonstrates discipline, strength, and courage.
Offers protection.

It's not just about the 'no' itself, it's also about how you say it. 5 tactics to saying better 'no's:

Give yourself space to think.
Manage tone and delivery.
Leaving feelings out of it.
It's not 'I can't'. It's 'I don't.'
Practice, practice, practice.
Resist the urge to explain.